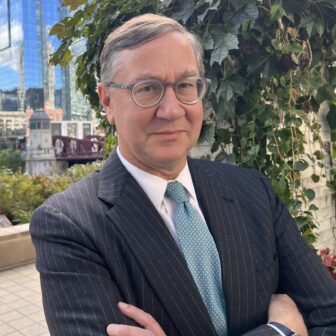 John R. Kroger is President and Chief Executive Officer of the Rodel Institute, one of the nation's premier leadership development organizations for political leaders, judges, and public servants.
John has had a distinguished career in higher education and public service, including prior work as a United States Marine, Assistant U.S. Attorney, Attorney General of Oregon, President of Reed College, Vice President of the Aspen Institute, and Chief Learning Officer of the United States Navy and Marine Corps. He has taught throughout his career, with appointments as Visiting Professor at Harvard Law School, Hauser Leader in Residence at Harvard Kennedy School of Government, Visiting Lecturer in Political Science at Yale University, and Visiting Professor at Lewis and Clark Law School. John was a tenured professor at Lewis and Clark Law School from 2002 to 2012, during which time he took leaves of absence to serve as Attorney General of Oregon and Trial Attorney on the U.S. Department of Justice Enron Task Force. Earlier in his career, John served as a legislative aide to Speaker of the U.S. House of Representatives Thomas Foley and Representative, now Senator, Charles Schumer.
John's awards include the Harry S. Truman Scholarship; National Endowment of the Humanities Younger Scholar award; Harvard Law School Traphagen Distinguished Alumni award; Aspen Institute Rodel Fellowship; Mark DeWolfe Howe Fellowship in Anglo-American Legal History at Harvard Law School; Harvard University's Certificate of Distinction in Teaching; Lewis and Clark's Law School's Levenson Award for Teaching Excellence (three-time award winner); the U.S. Department of Justice Director's Award for Superior Performance as an Assistant United States Attorney; ESGR's Seven Seals Award for protecting veterans; and commendations from the Federal Bureau of Investigation, Drug Enforcement Administration, and U.S. State Department. John is a member of the Council on Foreign Relations and a former Fellow at Harvard's Safra Center for Ethics.
John received his B.A. and M.A. degrees from Yale University, graduating magna cum laude with Distinction in Philosophy. He received his J.D. magna cum laude from Harvard Law School and clerked on the U.S. Court of Appeals for the Third Circuit. John writes frequently on issues in law, education, and national security. His blog, "Leadership in Higher Education," is featured on Inside Higher Ed. His book, Convictions, about his work as a federal prosecutor was published by Farrar, Straus and Giroux and won the Oregon Book Award in 2008.

John can be contacted at johnkroger@rodelinstitute.org.