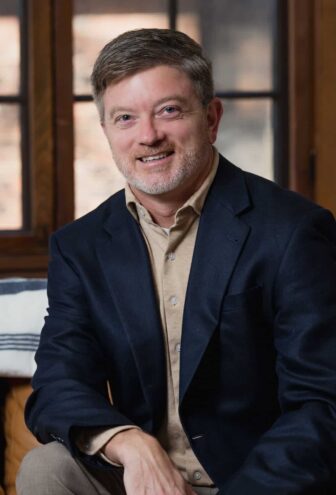 Jeff King is the Vice President and Chief Operating Officer of the Rodel Institute. In addition to overseeing Rodel's operations and assisting with fellow selection and seminar preparations, he serves as the Founding Director of the Rodel Judicial Fellowship.
A native of Independence, Kansas, Jeff spent a decade representing rural Kansas in the state House and Senate. He served as Vice President of the Kansas Senate from 2013 to 2016, during which time he also chaired the Senate Judiciary Committee, the Senate Subcommittee on Rules, and the Senate Select Kansas Public Employees Retirement System Committee. Jeff's legislative work focused on rural economic development, pension reform, school finance policy, and innovations in criminal justice and civil law.
Jeff also worked as an attorney for the past two decades, specializing in appeals, complex financial litigation, and school finance law. His national practice included federal and state jury trials, over 50 appeals in eight different jurisdictions, and seven separate appeals as counsel for the state in its multi-billion-dollar school finance litigation. He began his legal career as a law clerk for then-Chief Judge Deanell Reece Tacha on the United States Court of Appeals for the Tenth Circuit.
Jeff is a published author on subjects ranging from agricultural trade reform to international antitrust law. As a Truman Scholar, he is active with the Harry S. Truman Scholarship Foundation, serving on its scholar selection panel. Jeff is also a former member of the Uniform Law Commission and the Kansas Judicial Council.
Jeff graduated magna cum laude from Brown University with B.A. degrees in international relations and economics. He attended the University of Cambridge as a Marshall Scholar, where he received a master's degree in Land Economy and a master's Certificate in European Studies. Jeff received his J.D. from Yale Law School.
Jeff can be contacted at jeffking@rodelinstitute.org.